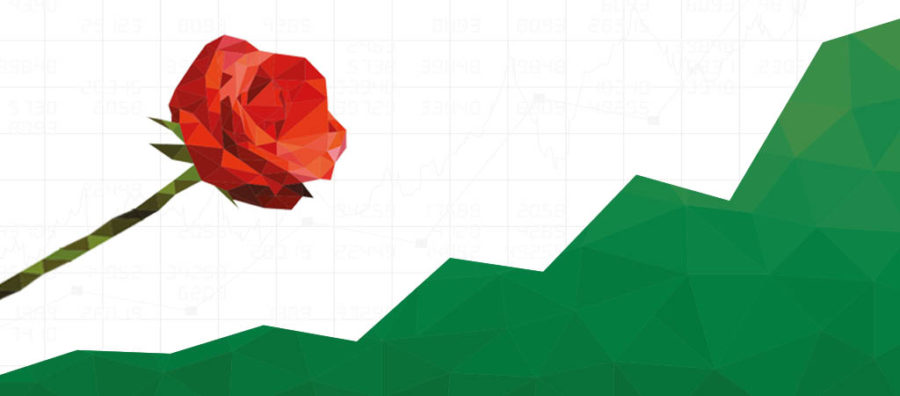 With February just behind us, we would like to look back on last month's figures, results, special days and activities. In addition, we would like to inform you about the new companies that have already joined the NGM platform.
February 2018 figures and results
The figures for the second month of the year were nicely in line with those for January. We witnessed a growth of approximately 20% as a result of a number of new business connections, among other things. We are happy to welcome increasingly more greenery growers and traders to our platform.
Pricing in February was more or less on a par with last year. The average price ended up slightly higher during the Valentine's Day period, in part due to a general shortage of roses coming from the African regions.
A busy Valentine's Day and International Women's Day
In addition to the usual monthly orders, the period around Valentine's Day and International Women's Day was noticeably busy. Roses, especially red roses, are the most ordered product by far for the day of love.
For International Women's Day, a more varied assortment is sourced. Also, the flowers sold for that day are more expensive across the board. In fact, the average flower price can reach up to 40% above the annual average. In this respect, we saw a large increase of orders for, among others:
Tulips
Chrysanthemums
Roses
Also, we have noticed that more than two weeks in advance of International Women's Day orders were coming in for areas beyond Moscow, because of Russian influences of course. This has to do with longer transport times compared to domestic sales.
International Women's Day
Yesterday, 8 March, was International Women's Day. International Women's Day celebrates the social, economic, cultural and political achievements of women. Flowers play an important role on this day. The demand women made during their first ever strike was "Bread and Roses", in other words, good working conditions and a good life. The Mimosa cut flower, which blooms predominantly during the first days of March, was introduced as a symbol for International Women's Day.
Recently connected businesses
In February, we once again met with many interested growers, who will join the platform in March. This way, our assortment will be increasingly broad and deep, and the chances of success will be even greater. The growers and products that we can already announce are:
Do you also want to trade online with a broad assortment? Or would you like to get to know us a bit better? If so, please do not hesitate to contact us.
Image: Shutterstock