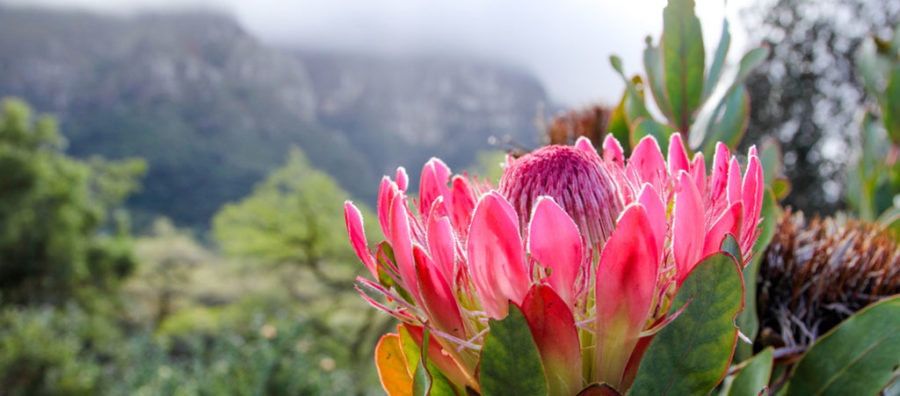 The area south of Cape Town in South Africa has a variety of exquisite flowers and plants. We definitely recommend purchasing these exclusive products – which are perfect for bouquets – via New Green Market.
New Green Market visits the Cape of Good Hope
New Green Market recently visited a number of locations, including South Africa. It was a very inspiring trip and experience, where we were told that the Cape of Good Hope has a very rich variety of types of flowers and plants to offer. This number is unequalled in the world; there are 8,000 different varieties in the wild alone! That many varieties do not even grow in the whole of the United Kingdom for example.
We were able to see this for ourselves by driving and walking around in the area. Cape of Good Hope suffered a lot of drought and intense fires in recent years. It is an area that – despite the drought in recent years and the intense fires that destroyed a large part of it – already showed signs of recovery after the first rain: new, green leaves. It's called the Cape of Good Hope for a reason!
Focus on sustainability, people and products
A selection of this diversity is commercially grown with love and attention for the product and for people. All sorts of measures are taken for sustainable production. For example, great products are made using a minimal amount of water, families are supported and nature is conserved.
Jewels of the Cape available through NGM
Interested in a taste of these gorgeous Proteas, Cape green and Leucadendron? The South African products are daily available on our platform via International Flower Network in Aalsmeer. You can easily find and order these jewels of the Cape by searching for 'International Flower Network' in the marketplace. Not yet registered with New Green Market? Sign up today!